In 1991 Minnesota was the first state to approve school chartering as a strategy for improving public education. This new, less regulated sector was to provide a space to try innovative strategies for teaching, learning and school organization.
Now, 25 years in, we thought it would be helpful to provide a 10,000-foot overview of the sector today in Minnesota.
By law, Minnesota's chartered schools are tuition free; may not require entrance exams or requirements; and must accept all students up to capacity. If there are more applicants than slots, the school must conduct a lottery to determine admission.
Chartered schools are independent entities sponsored by state certified "authorizers". Colleges, non-profits, school districts and specially created "single-purpose authorizers" have served as authorizers. There are currently 24 such entities in the state of Minnesota; most of them are small, with half authorizing three or fewer schools.
By the end of 2015 the state's charter sector involved 164 schools enrolling more than 50,000 pre-K, elementary and secondary students. An additional 15 schools have been approved for opening in 2016 and beyond.
While 51 of the schools are located outside the Twin Cities metro area, the vast majority of charter school students attend schools in the Twin Cities metro. Minneapolis is home to 34 charter schools, and St. Paul is home to 35, making charter schools a major presence in two of the state's lowest performing districts.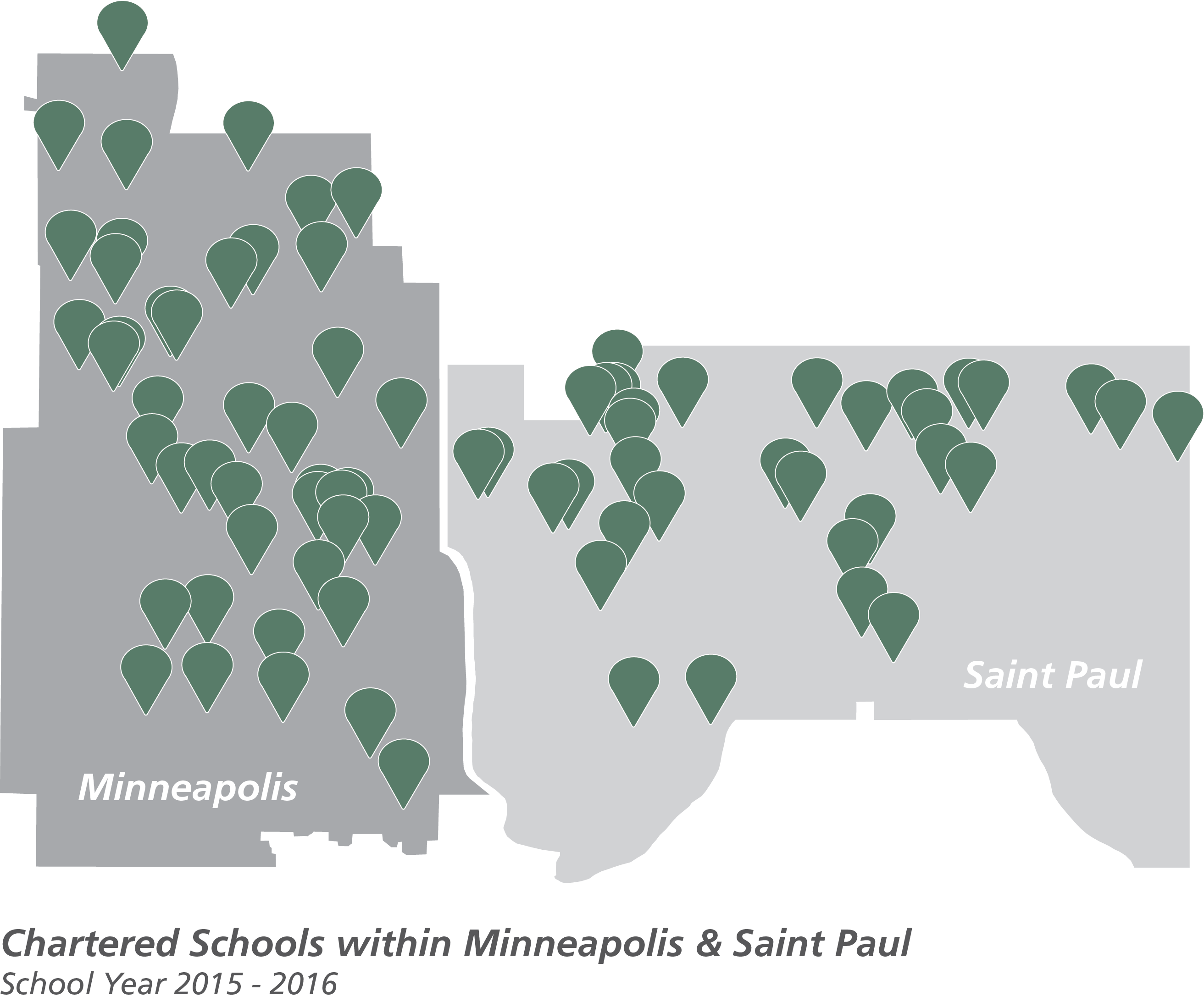 Contrary to what many believe, Minnesota's chartered schools enroll a larger percentage of students receiving free and reduced lunch than district based schools (55% vs 38%). They also enroll a larger percentage of Limited English Proficiency students (20% vs. 8%), a larger percentage of minority students (53% vs. 29%) and about the same percentage of Special Education students (13%).
Because chartering is a strategy, not a school description, Minnesota charter schools vary widely in size, pedagogical focus and operational strategy. This year we are working in partnership with the Minnesota Association of Charter Schools (MACS) to highlight the variety of innovative school designs that have emerged within the sector, and the student achievement they have helped to foster. We will be featuring some examples on this blog.
Most significantly, chartering has been adopted as a strategy for improving public education in all but a handful of states, and has become a major force in several urban areas.
This blog post is part of an ongoing series covering chartering in Minnesota in 2016. Read more about the series. Sign up for posts by email.