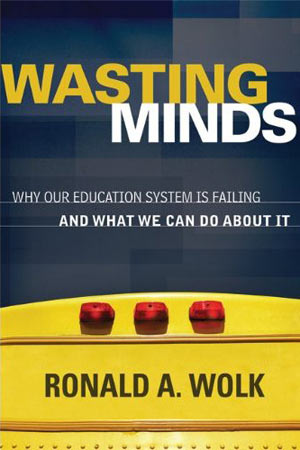 Wolk writes "with an idealist's heart and a pragmatist's spine, [and] he shows how to build an education system centered on students and true to the ideals of freedom, rigor, and fairness."
– Daniel Pink, best-selling author of Drive
Wasting Minds: Why Our Education System Is Failing and What We Can Do About
In his new book, Wolk draws on three decades spent in the school reform trenches to question the common assumptions about the U.S. education system. Instead of calling for more reform efforts, Wolk makes the case for a new schooling strategy, where students break free of the failing assembly line approach to learning and receive the individualized instruction they deserve.
As founder and former editor of Education Week, Teacher Magazine, and Quality Counts, Wolk insists that the dominant reform efforts have not closed the student achievement gap, reduced the "scandalous" dropout rate, or even improved schools. Wolk asserts that simply introducing new practices and reforms to the existing education system will not work—the system is broken beyond repair.
Instead, Wolk believes the "engine for a new-schools strategy is personalized education anchored in the real world." Traditional instruction and standardized assessments should be minimized, and teachers should become advisers who guide students in educating themselves and help them manage their time and energy.
Wolk promotes smaller, innovative schools that emphasize:
Individualized instruction, with various pathways for learning;
Real-world context for learning;
Performance assessment;
A restructuring of public education to expand preschool; and
Transformation of the teacher's role from instructor to advisor.
"Wolk understands that our students and teachers cannot continue working with our predominant one-size-fits-all construct of schooling," said ASCD Executive Director Gene R. Carter. "ASCD has long been an advocate for personalized learning that shifts our focus from 'schooling' to authentic, student-centered learning."
You can read more about the book on ASCD.org or, listen to an interview with the author.
Wolk is a long-time Education|Evolving friend and collaborator. You will likely find that many of the ideas expressed in the book and on this site are complimentary.