Over the past 20 years, the number of English learner (EL) students in Minnesota has increased by 300 percent, making them the state's fastest growing student group, and they currently constitute 8.3 percent of the state's K-12 public education student enrollment. However, despite the rapid growth, their academic progress, as compared to their non-EL peers, has stalled.
In order to address the gaps that EL students face in the state's public education system, the Coalition of Asian American Leaders and the Minnesota Educational Equity Partnership founded the Minnesota Multilingual Equity Network (MMEN), which is comprised of teachers, professors, parents, administrators, and advocates.
In July 2016, MMEN launched their EL-ESSA Initiative in response to the federal Every Student Succeeds Act's (ESSA) requirement that states include progress toward EL proficiency as one of their academic accountability indicators. According to MMEN's policy brief, ESSA's requirement "is an opportunity to ensure that Minnesota's education system adequately considers the academic success" of the EL student population.
Yesterday, over 60 educators, advocates, and legislators gathered at the Wilder Foundation to learn about the policy brief and recommendations that MMEN has developed over the past year. MMEN discussed the work they have done with hosting EL Parent Advisory Committee meetings in Minneapolis, St. Paul, and Faribault, meeting frequently with the Minnesota Department of Education (MDE) staff, actively participating in MDE ESSA committees, and partnering with other coalitions.
From this work, they created seven recommendations, which are summarized below, for MDE to consider as they are finishing the ESSA state accountability plan.
MMEN's Seven Recommendations to MDE
Recommendation #1: Family Engagement – MDE should provide resources and support for MDE family engagement staff to work with EL families in order to meet the unique educational needs of their children. Additionally, MDE should engage EL families and communities in "developing and refining" policies that impact EL education.
Recommendation #2: Academic Native Language Literacy – MDE should strengthen academic native language curriculum and courses in order to support global citizenship for ELs, increased educational content access, and support for rigorous literacy development.
This recommendation comes from the state's lack of access for EL students to participate in language immersion schools, which are primarily dedicated towards native English speaking students. Additionally, most of Minnesota's programs that are accessible to EL students are predominantly English-only, rather than multilingual. The brief acknowledges that ESSA focuses on only English language proficiency, but asserts that Minnesota can support multilingualism through ESSA implementation.
Recommendation #3: English Language Proficiency Goals – MDE should provide more "robust and multidimensional" calculations of EL proficiency growth. The brief gave an example of a composite indicator that contains three measurements:
Percentage of students that attain target growth based on their language level
Percentage of reclassified ELs
Percentage of long-term ELs (5+ years)
Recommendation #4: Standardized EL Entry/Exit Criteria – MDE and schools should create "consistent and objective criteria and school practices" that include family discussions for EL program placement and reclassification.
Recommendation #5: Options for Inclusion in Assessment and Accountability – MDE should establish and maintain high standards for all EL students by using baseline data from the recently arrived student assessments in order to properly measure growth.
Recommendation #6: Early Childhood Education – MDE should provide support as well as work to acquire more funding for the early development of dual language learners.
Recommendation #7: Comprehensive Improvement Plans – According to the brief, under ESSA, schools that receive Title 1 funding and are identified in the bottom 25% of academic performance are defined as "Continuous Improvement Schools." These identified schools must do the following:
Conduct a needs assessment
Complete a comprehensive school improvement plan
Collaborate with parents regarding the school's Continuous Improvement designation
MDE should use the Comprehensive Improvement plans, as well as federal funding sources, to strengthen professional development and programs that support ELs, with a focus on those in low-performing schools.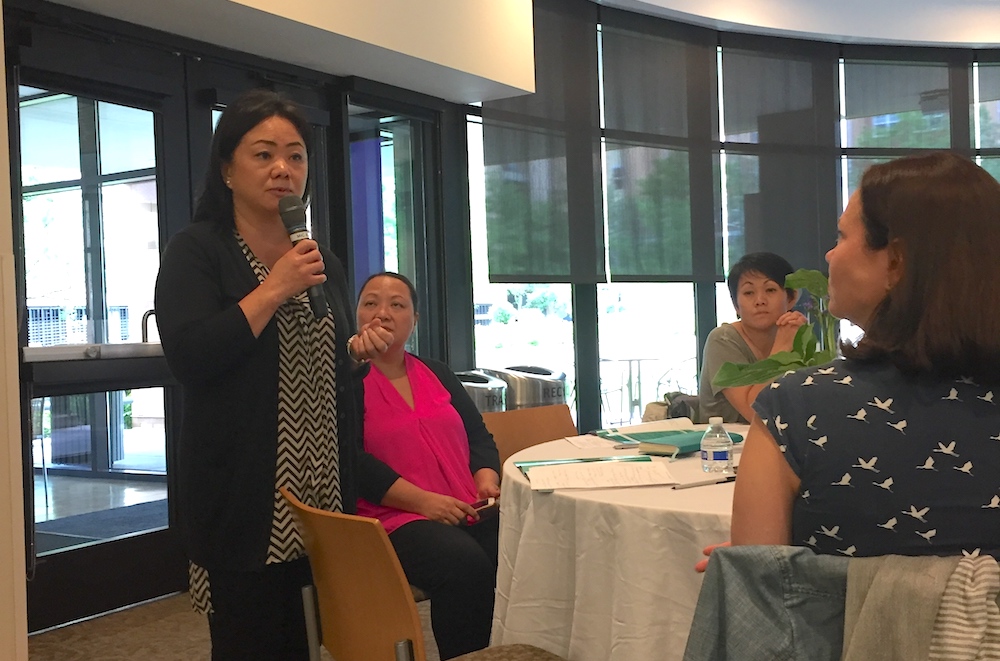 MDE Responds to Recommendations
After the recommendations were presented, Stephanie Graff, MDE's Chief Accountability Officer, and Leigh Schleicher, MDE's Supervisor of Student Support, gave remarks in which they thanked them for their work and spoke to what MDE was doing to accomplish some of the recommendations.
Specifically, Schleicher referenced MDE's efforts to ensure that teachers and staff are properly prepared to teach EL students through professional development, standardizing EL entrance and exit criteria, and and including recently arrived and former ELs in assessment and accountability.
Graff noted that, with ESSA requiring EL proficiency as one of their accountability indicators, states have to shift their mindsets regarding EL students; "ELs are all of our kids and we need to make sure that people have the tools to help them."
MDE will make the state's ESSA accountability plan available for public comment on August 1st, and will submit the plan to the US Department of Education on September 18th.
Found this useful? Sign up to receive Education Evolving blog posts by email.