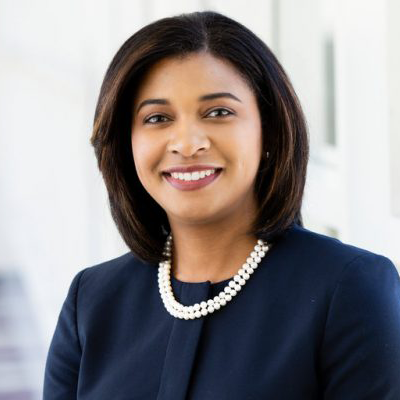 Kathlene Holmes Campbell, Ph.D., is the Chief Executive Officer for the National Center for Teacher Residencies (NCTR). Dr. Campbell's multifaceted experience as a classroom teacher, community college and state college professor, university instructor and supervisor, university dean, and non-profit consultant have shaped all of her strategic and scholarly pursuits.
Prior to joining NCTR as CEO, Dr. Campbell previously served as the Dean of Education at the University of St. Thomas where she oversaw the departments of educational leadership, special education, and teacher education as well as the charter school authorizing unit and the Minnesota Institute for Trauma Informed Education (MITIE). Dr. Campbell also was a Program Director for NCTR, where she led programming that provided technical assistance to IHEs and colleges of education transitioning to a teacher residency or other clinically oriented teacher preparation program. Earlier in her career, Dr. Campbell served as a Director of Alternative Certification and Interim Dean of Education at Florida State College at Jacksonville. During her appointments as a director and dean, she revised program curricula to better prepare graduates for the teaching profession and oversaw credit (AS) and non-credit early childhood courses, education A.A. degree courses, the alternative certification program, and a Bachelor of Science program in early childhood education.
As a researcher and professor, Dr. Campbell taught numerous early childhood and elementary courses and embedded clinical interdisciplinary placements into her courses by partnering with local elementary schools particularly focused on social justice and equity. Beginning in 2009, Dr. Campbell worked with the National Urban Alliance for Effective Education (NUA), helping teachers improve their practice and infuse culturally relevant teaching practices into their classrooms. As a consultant with NUA, she had the opportunity to work closely with teachers in Buffalo, NY; Minneapolis, MN; Newark, NJ; Robbinsdale, MN; and St. Paul, MN. Dr. Campbell has a Ph.D. in Curriculum and Instruction from The University of Texas at Austin. She also received a B.A. in Elementary Education and M.Ed. in Early Childhood Intervention and Family Studies from the University of North Carolina at Chapel Hill.
Dr. Campbell credits her family, university professors, and undergraduate cooperating teacher, Shyvonne Steed-Foster, as major influences on her success as an educator.