This blog post was written by Deyonne Jackson and Lauren McDaniel, two teachers at Woods Learning Center, which is a teacher-powered school in Wyoming
When Woods Learning Center's (Woods) Administrative Manager took a call from Sarah in the U.S. Department of Education (USDE), Sarah went quiet when she was told that the decision about Secretary DeVos' visit couldn't be made without first speaking to the Woods' administrative team of teachers. "What do you mean? Isn't there a principal who can make the decision?"
Not at this school.
When our team first heard the news that Secretary DeVos wanted to start her "rethink school" tour at Woods, people were in shock. This was someone prominent in the news wanting to visit our quiet little school.
Secretary DeVos' visit was controversial. Some of our staff had objected to statements she had made and actions she had taken. However, when we learned that she was coming not only to celebrate specific things that we love about our school, but also to listen and learn from us, we all agreed that this was an amazing opportunity to share our passion and vision for learning with the nation. Why would we allow someone in our building who may have different ideals from us? Our answer, "Why not take this opportunity to share our incredible program?"
We teach our students that our world is made up of people with differing opinions and values. It is important to share our ideas whether we agree or disagree. Discussing issues with those we have differing opinions with has the biggest impact on change and learning new ideas. This is exactly what we wanted of our visit with Secretary DeVos. This was our time to be advocates for every teacher, school, and program passionate about rethinking education! It was a day of celebration and learning for all.
How Have We Rethought School?
When asked why and how Woods was chosen for such an honor, USDE commented: "Woods was chosen because of its innovative approach to teacher empowerment and its student-centered learning model coupled with Natrona County's open enrollment policy which allows parents to choose the public school option that best meets their family's needs." This was our chance to highlight our school, our teacher-powered governance, our approaches to education, and our school of choice district.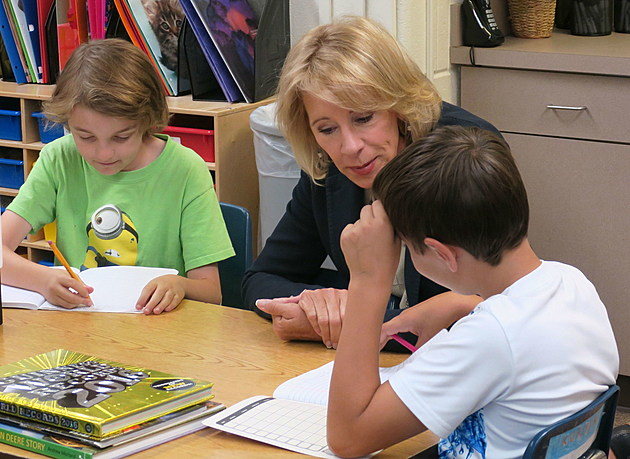 Woods is a public kindergarten through 8th grade school located in Casper, Wyoming. It is part of a school of choice model in Natrona County School District. There are no charters, no neighborhood schools. Parents choose which district school they want their child to attend.
Woods is also a teacher-powered school and operates with an administrative team of teachers, in lieu of a principal. At teacher-powered schools teachers design, implement, and make the decisions that influence student success; some of these teams choose to have a principal, others like us do not. At Woods, classrooms are arranged in "pods" with 2 or 3 grade levels in each room, co-taught by 2 to 3 teachers.
Project-based instruction is the foundation and application of learning in our school, with instruction based on the needs of each individual child. As a staff we model collaboration and democratic principles, and students are actively engaged in hands on learning. Woods is an inclusive school for those with special needs and classes are co-taught with special education staff.
The Opportunity: DeVos Tours Our School
The morning of the visit, the block surrounding Woods was abuzz with excitement, nerves, and to some bystanders, displeasure. Secretary DeVos arrived to a small crowd of boos from people in the streets, but was met with smiles and warm handshakes from school staff and school district board members. We welcomed this opportunity to broaden Secretary DeVos' thinking about successful schools. It was as normal as any other Tuesday for us. We wanted her to see the real Woods.
Our first order of business was to have Secretary DeVos add a block to our school pyramid, which symbolizes how we all work together to make Woods a strong learning community. She participated in a peacekeeping circle, discussed reading with children, played an instrument in a music class, and laughed with young children. During her tour she was engaged with students; she was down on their level introducing herself as "Betsy" and just enjoying time with students. She laughed with them, listened to their stories, and asked questions about what they were doing and how the school year was going. The students enjoyed talking with her and were fascinated by the entourage of media that followed.
After the school tour, there was a closed-door round table discussion. Media left the room as eight Woods staff members, our district superintendent and district director of teaching and learning engaged in a 40 minute conversation about issues that were important to us as teachers. We discussed measuring student success with more than just standardized test scores, meeting the needs of all students in an inclusion setting, wearing different hats as administrators and teachers in a teacher-powered school, field trips, travel, schools of choice and project-based learning.
We emphasized that good education is happening at Woods and it is a public district school. Secretary DeVos was receptive and eager to learn about our structure, and asked questions to seek understanding. We truly felt that she came to hear—not to be heard. She left us with a remark that will live with us forever, "This school is an important model and I hope others emulate it quickly."
Pioneers in Education
Secretary DeVos ended her time at Woods by addressing staff, students, and media. Her remarks about people having courage to move west and start a new life, paralleled the way Woods started 26 years ago. A group of courageous teachers forged, with the support of an innovative superintendent, forward creating Wood. Secretary DeVos finished by opening up the floor to students. Students asked: "How will you make change in education?" "What kinds of changes do you want to see?" It was a perfect example of the way we teach our kids to think outside of a scripted box, and allow them to speak for themselves.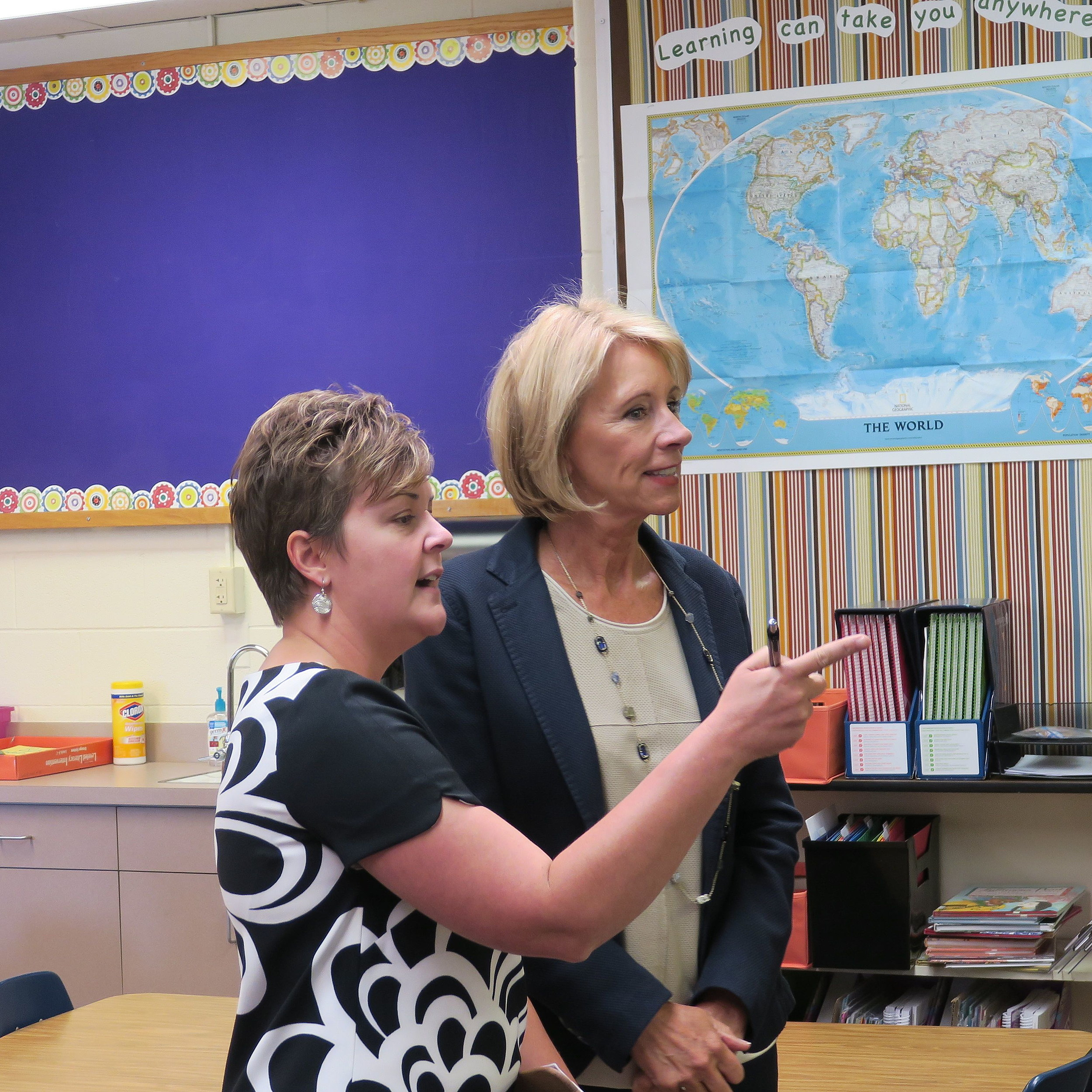 As Secretary DeVos left, we swelled up with pride. It was a phenomenal experience. Our school was chosen to kick off the "rethink school" tour because Woods has—and continues to—rethink education. A small group of passionate teacher leaders started the school and we are the fortunate ones to carry on the legacy and be a model for others. We will continue the great work of our founders, and we will renew as the needs of our students and community change.
It is exciting to see our school in the national news and we welcome the chance to share our teacher-powered governance model and project-based learning philosophy with others. This model also successfully occurs in other areas and with more diverse student populations such as Los Angeles, Boston, and New York City.
As teachers, we learn and grow with others in the field. It is time to rethink schools and a good place to start is seeing successful innovative models already doing this with their students and teacher teams. Since there is not one model that fits the variety of student needs, we are excited and encouraged to see the way other schools rise to the "rethink school" challenge.
Found this useful? Sign up to receive Education Evolving blog posts by email.