This post was written by guest-bloggers Carrie Bakken, Program Coordinator & Teacher at Avalon Charter School, and Julene Oxton, Innovation Coordinator for Lakeville Public Schools and a lead developer of Impact Academy. They are ambassadors for the Teacher-Powered Schools Initiative, run by Education Evolving and CTQ.
As long time educators and members of teacher teams that have started teacher-powered schools in Minnesota—Impact Academy, a pilot district school in Lakeville, and Avalon School, a charter school in St. Paul—we felt compelled to write about the incredible partnership that is emerging between unionized district schools and charter schools within the Teacher-Powered Schools Network.
It seems fitting that on the day four teachers from Avalon School boarded a plane to Los Angeles for the 2017 Teacher-Powered Schools National Conference, St. Paul Public Schools Interim Superintendent, Dr. John Thein, came to witness Avalon's collaborative governance in action. Ted Kolderie, an architect of the 1991 charter law and long time advocate of teacher-powered schools, brought Dr. Mary K. Boyd, Dr. John Thein, and Dr. Bob Brown to observe how Avalon makes decisions collectively. This kind of cross-collaboration between charters and districts represents the very best of the teacher-powered schools movement.
During the conference, teachers from district schools, charter schools, as well as unionized and non-unionized schools participated in a design workshop, visited two teacher-powered pilot schools in the Los Angeles Unified School District, and co-presented on a range of topics. However, the most rewarding part of the conference was seeing how the Teacher-Powered Schools Initiative, a joint project of Education Evolving and the Center for Teaching Quality, continues to grow and reach both educators and students from across sectors.
We are all unified under a theory of action that entrusts teachers to do the professional work in order to create the best schools for students. During the conference, we met many students, teachers, principals, and superintendents from across the country. From these interactions, it became clear that the Teacher-Powered Schools Initiative's greatest strength is that we operate with a unified vision and shared purpose that powerfully impacts students' success.
The tremendous effect of teacher-powered schools was widely observed at this conference and the movement continues to grow from a small group of schools. Our last presentation of the weekend was a collaborative presentation between districts and charters about how to grow the Teacher-Powered Network and share their school's story.
Our diverse presenter group came from Wildlands, a rural charter school (grades 7-12) in Wisconsin, Avalon, an inner city charter high school (grades 6-12) in St. Paul, MN and Impact Academy, a suburban unionized district school (grades K-5) in Lakeville, MN. Our team passionately shared strategies that illustrated how our work strengthens and expands the Teacher-Powered Network. Strategies shared ranged from giving school tours, leveraging social media, and developing state and local policy. The goal of these strategies is to support more teachers in building capacity to make student-centered professional decisions across our region and nationally.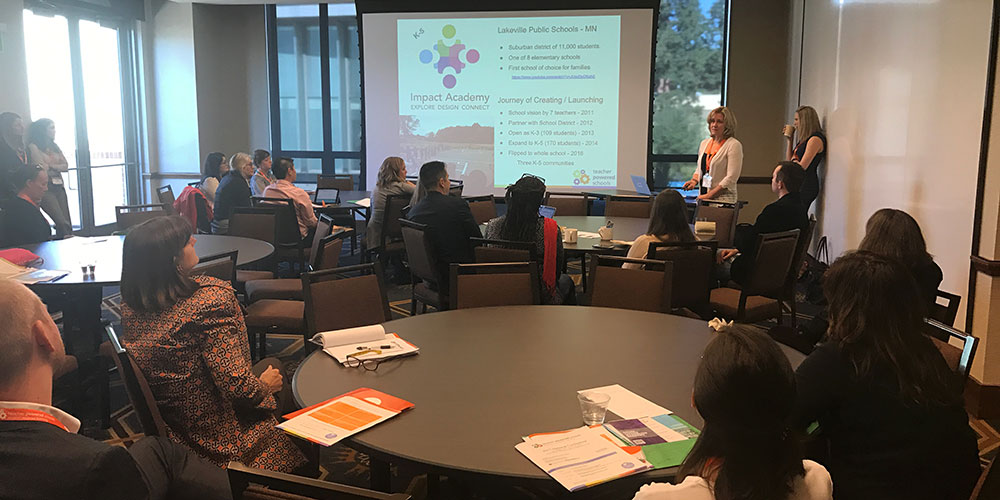 In addition to strategies to propel the movement, we also compiled a list of common lessons learned from our teacher-powered work, which included the importance of a clear shared purpose, a stream of positive messaging, the collective ownership of autonomies, courage and perseverance, and putting students at the center of all discussions and decisions.
Even though our journeys vary in length, and our schools differ in student demographics, location, and public structure, our collective commitment to empowering teachers to in-turn empower students, provides the platform for a network that is built on trust and common purpose. This collective belief of trusting teachers as experts and professionals, and an unwavering focus on students, fosters a culture of positive collaboration, instead of competition.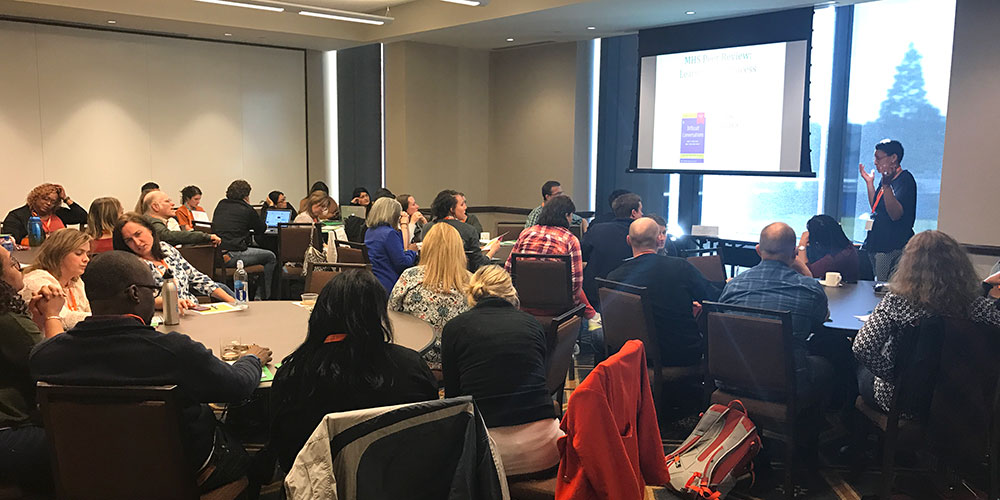 Our diverse presenter group represented a microcosm of what this conference highlighted for its attendees. Teachers, no matter what type of school they work in, are becoming unified in how to build a public school system in the United States where all students own their learning.
As teachers continue to take hold of their profession and support each other in flipping the educational system in our country from a top-down approach to a ground-up movement, we can all be hopeful for our children now and for the children of the future.